Our Services
"We Provide End-To-End Services For Every Aspect Of HR, Helping You Solve Today's Issues While Looking Ahead to The Challenges Of Tomorrow."
Task Base Services
We provide contractual employees for non-strategic decision category to be positioned in the Client's office (as leasing employee) under our supervision. Such categories include receptionist, driver, finance, administration, sales, secretary, etc.
For our personnel, we use 360 degrees feedback approach to maximize our client's satisfaction. By using this approach, we perform effective evaluation of individual competencies by superior, direct reports, peers and external contacts (out side division).
Outsourcing Services includes:
Recruiting Process
Handling Payroll Service
Third Payment Services
Managing full protection for the employee with Health Insurance Program
Task Base Clients
Adidas
Caprock Communication Indonesia
Johnson & Johnson Indonesia
Krones Machinery Indonesia
Distribution Now
Pemeringkat Efek Indonesia
Diebold Nixdorf
First Jakarta International
Kantar Indonesia International
Mundipharma Healthcare Indonesia
Samsung Electronics Indonesia
Protelindo
Mondelez Indonesia Trading
Mondelez Indonesia Manufacturing
Kraft Ultra Jaya Indonesia
Microsoft Indonesia
Halo Mobile Device Indonesia
SDL PLC Taiwan Branch
PAE Government Service (US Embassy)
Fresenius Medical Care
Samsung Research Indonesia
Thamrin Nine
Wisma Kartika
Bank UOB Indonesia
UOB Property
Lenovo
Integrated Healthcare Indonesia
GTA Travel Service
Kuoni GTS Indonesia
Beiersdorf Indonesia
Bungasari Flour Mills Indonesia
Cimigo
Kaltim Methanol Industri
Eserveglobal Indonesia
Marubeni Indonesia
Wira Pamungkas Pariwara / Millward Brown Indonesia
Lippo Mall Kemang
We provide excellent class human resource development training, for core techniques and soft skills. Our trainers have been involved in several consulting projects with world class partner and have been applying many contemporary consulting techniques in various industries.
Regularly we conduct public training, workshop or seminar with special subject. In case of special demand of client, we suppose to offer tailor-made course what we called in house training.
We are also in process of expansion to organize event like Job Fair/Career Festival. Partnering with a premier Communication Company, we also manage to organize event based on Clients need.
Training Center Clients
INHOUSE TRAINING
ConocoPhillpis (Grissik) Ltd
Pertamina
PT Coca Cola Amatil Indonesia
PT Indo Balau Ume
PT MSM (Meares Soputan Mining)
PT PLN (Persero) Pusenlis
PT Pou Yuen Indonesia
PT Rodamas Timber Kalimantan
PT Sinar Alum Sarana
PT Toray Indonesia
PT Graha Sarana Duta
PT Pelindo IV
PT Pelita Air Service
PT Saptaindra Sejati
PT Angkasa Pura II
PT Bukit Muria Jaya
PT Hogy Indonesia
PT. Schott Igar Glass
Jalurkerja.com (Job Search)
www.jalurkerja.com (JKcom) is our latest milestone! JKCom isa new bridge for employee and employer.
As a job portal, JKcom is intended to strengthen our data-base (both employee and employer) for Outsourcing and Executive Search Service.
Un like other job portal, JKcom is not only IT-based but also supported by HR Service done by CHR as its backbone. Then, it is an integration of IT and HR Service.
Other uniqueness of JKcom, again unlike other jobportal, is that Employer may register as member and post its job vacancies for free. We want JKcom as one of alternative solution for employment issue in Indonesia. We should provide jobs more, and much more.
Jalur Kerja Clients
EMPLOYER MEMBERSHIP
Kawan Lama Sejahtera
Bank BTPN
Bank Mega
Bank Danamon, Tbk
Samator Group
Samsung Electronic Indonesia
XL Axiata, Tbk
Mayora Group
Garudafood
Maybank Finance
Telkom Sigma
Electronic City
Bank Tabungan Negara
Frisian Flag Indonesia
Amaris Hotel Indonesia
Permodalan Nasional Madani
Bank CIMB Niaga. Tbk
Bank Syariah Mandiri
Lotte Logistic Indonesia
Pharos Indonesia
Home Credit Indonesia
INDOTTECH (Telecommunication Technology)
VISION
"A Boutique Service Provider In Telecommunication Area by Delivering Excellent Solutions consistently to Clients"
MISSION
• Providing reliable End to End Telecommunication Services
• Leading the way in Service Delivery with Innovation, Simplicity and Quality
• Providing valuable contribution to successful of our costumers project objectives achievement
PRODUCT & SERVICES
• Project Management Services
• Telecom Experts Service Provisioning
• Network Design & Optimization
• Telecom Implementation
• Managed Service
• Quality Audit
Indottech Clients
SITE PROJECT
Aceh
Sumatera Utara
Sumatera Barat
Riau
Kep Riau
Jambi
Sumatera Selatan
Kep Bangka Belitung
Bengkulu
Lampung
DKI Jakarta
Banten
Jawa Barat
Jawa Tengah
DI Yogyakarta
Jawa Timur
Bali
Nusa Tenggara Barat
Nusa Tenggara Timur
Kalimantan Barat
Kalimantan Tengah
Kalimantan Selatan
Kalimantan Timur
Kalimantan Utara
Sulawesi Utara
Gorontalo
Sulawesi Tengah
Sulawesi Barat
Sulawesi Selatan
Sulawesi Tenggara
Maluku
Maluku Utara
Papua Barat
Papua
INDO HEIGHT (Pelatihan Pembinaan dan Sertifikasi K3)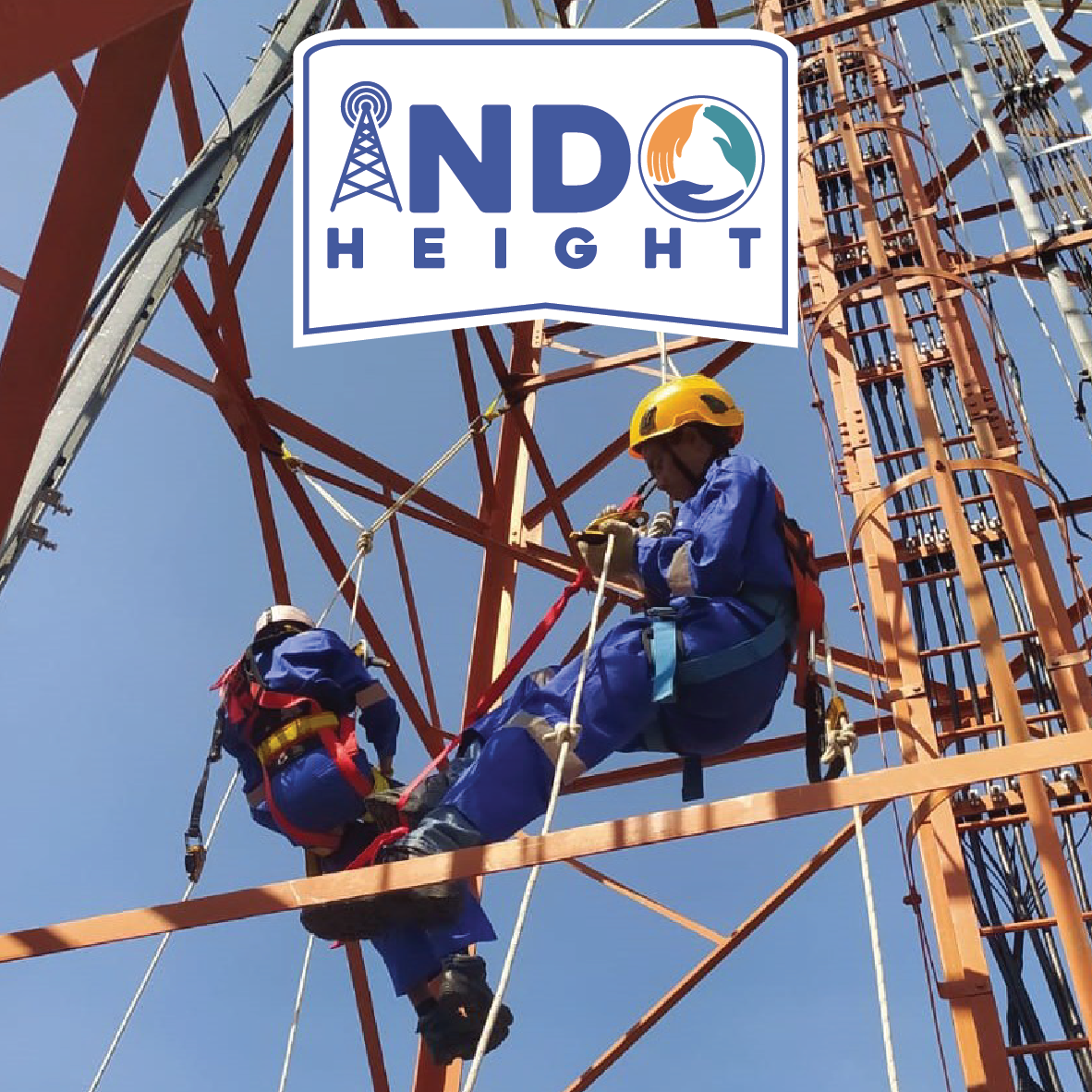 Pelatihan Pembinaan dan Sertifikasi K3
Pekerjaan Pada Ketinggian
Blended Training dan Bersertifikat Kemnaker RI
Fasilitas
Sertifikat Kemnaker RI
Lisensi Kemnaker RI
Modul dari PT. Indo Human Resource.
Peminjaman peralatan APJP.
Alat tulis dan souvenir.
Classroom untuk evaluasi Kemnaker
Email: pjk3.indoheight@corphr.com